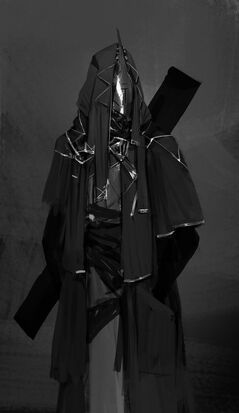 Ålder: ??
Synbar ålder: ~15
Civilstatus: Nogel
Talang: Magiker, Mystiker, Necromancer
Militärisk Rank: Hög
Politisk Rank: ??
Titel: Shobh - (Magiker)
Uppväxt i Yenlu'Sheth
Enda barnet från högst ostabila föräldrar.
Mest känd för i hemlandet och bland de egna att bli tidigt personligt utvald av Khadath'non bröderna till deras gemensamme lärling.
Kom snabbt in i det militäriska.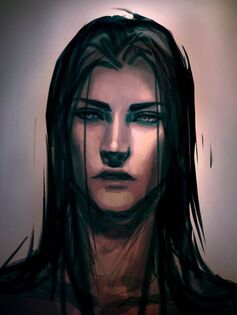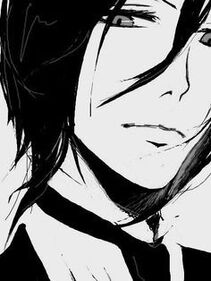 Kortväxt för vara drukhur, stannade vid blyga 1.75 m
Utmärglad kropp, inget man märker direkt av den vida och fylliga magikerskruden han oftast bär. Ännu mindre i sin kombinerade "rustning"/skrud för krigsföring.
Ansiktet är docklikt, mjuka och fagra ungdomliga drag. Vida ögon som är allt annat än oskyldiga och naiva. Isvioletta irisar, vertikala pupiller.
Halvlångt hår, slickat oljesvart i både utseendet som "konsistensen"
Bär oftast skrudens kåpa neddragen och fallen över halva anletet och slutar vid näsan först.
Har ofta variga sår på någon del av kroppen mer eller mindre synligt.

Sitt sinne.
Sina "barn".
Hela hären han tillhör.
Personlighet
Edit
Manisk.
Välmenande.
Galen.
Befattning och kunskaper
Edit
Lärd i de flesta världsliga språk och Dimoori sheol (demon).
Bär på en avvisande aura för en orsak.
Har en fysik en även svag människa kan utan ansträngning rå på, men finns ett ohyggligt pris för det och inget som rekommenderas.
Shobh "Mystiker/magiker"
Studerat bl.a:

Demonologi
Necromanci
Besvärjelser
Runor
All anatomi, djuriska, humanoida, mikroskopiska, icke-världsliga, demoniska.
"We're assked, yes, to check on you all. For the parasite... You haven't been, tasting their blood have you dear?"
Bekantskaper
Edit
Fränder

All kärlek
Nogel, Profeten! Ödesvandraren. Slukaren. ♥

Kära och mindre kära
Studieobjekt
.....
Community content is available under
CC-BY-SA
unless otherwise noted.